Creating your own herb garden is an eco-friendly and cost effective way to brighten up your kitchen with an oasis of greenery!
We like to use our space-savvy Large Love Boat, the perfect low lying vessel that takes up minimal real estate on your kitchen bench.
Our go-to herbs in the kitchen are mint, thyme, and basil. Check out our video and step by step guide below.
WHAT YOU NEED:
3 x Herb Plants

Large Pot

Potting Mix

Fertiliser

Pebbles

Trowel

Gloves

Secateurs

Watering Can
Step 1: 
Fill the base of your new planter with pebbles to around 5cm in depth. This is necessary to create an internal drainage system.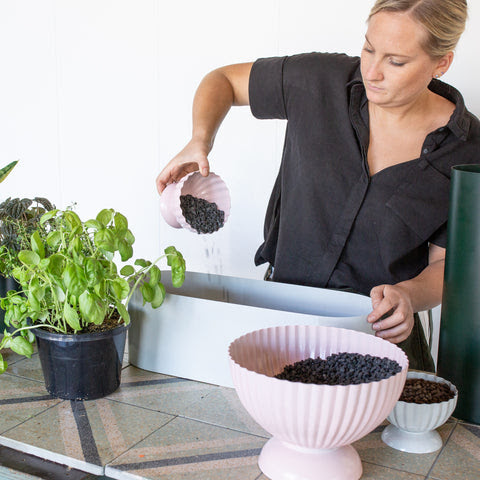 Step 2: Fill the rest of the planter to about halfway with potting mix, and create three small wells for where you will pop your herb plants into.
 Step 3: Remove your herb plants from their original pots, by gently squeezing and loosening the edges. Hold the plant at its base and tip the plant upside down to lift it out of the pot.
Step 4:

 
Loosen the soil around the plant so the plant is able to establish roots in it's new home. Pop the plant into the small wells you originally made in the potting mix.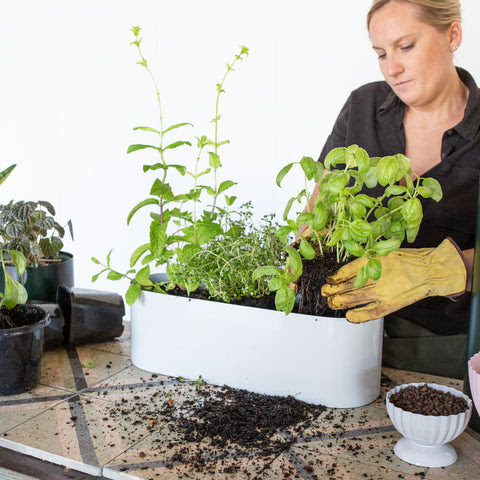 Step 5:

 
Fill the planter with the remaining potting mix and pat the soil around the plant until the soil is 2cm below the rim of the planter.
Step 6:
 Water your happy herb garden, and place it on your kitchen bench.
Check out our other Plant Series Video on How To Propagate Your Own Plants!